Providing the score and percentage of four Toppers of CA IPC Exam of May,2013. The four toppers of CA IPC are sakshi sanjay gupta,himanshu nemichand Agrawal,K.N.V.V Upendra and Ronak baphna.

CA-IPC exam result is out now, for those who are waiting for the exam results, the exam result is finally out now.There are students who are searching for the toppers of CA IPC Exam, here we providing top 3 toppers of CA IPC exam for May, 2013.
CA IPC May 2013 Exam Toppers - CA IPC Exam Result

1. Sakshi Sanjay Gupta is from mumgai girl, who has scored 568 marks with 81.14 percentage in all over india and got First rank in CA IPC Exam 2013.

2. For 2nd No. spot, there are two entries, one is Himanshu nemichand Agrawal (Surat,Gujarat) and second is K.N.V.V Upendra(VUTTURU), both has scored 565 marks and got 80.71 percentage.

3.Ronak baphna from baroda, Gujarat has scored 559 marks with 79.86 percentage has got 3rd rank in all over india.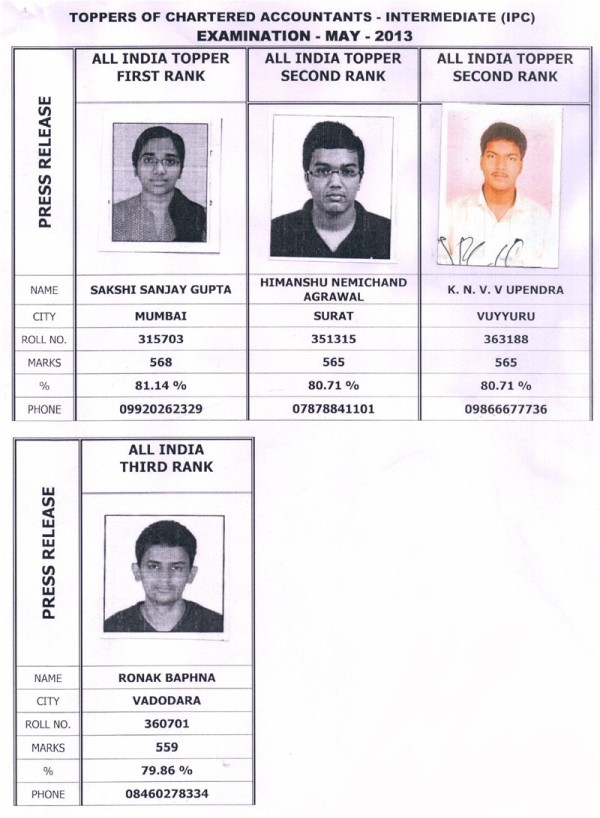 www.gtuexam.co.in congratulate them on behalf of all our readers. Thank you! :) Keep visiting us.